Johann Laurent, Associate Professor
Habilité à Diriger les Recherches
Lab-STICC Laboratory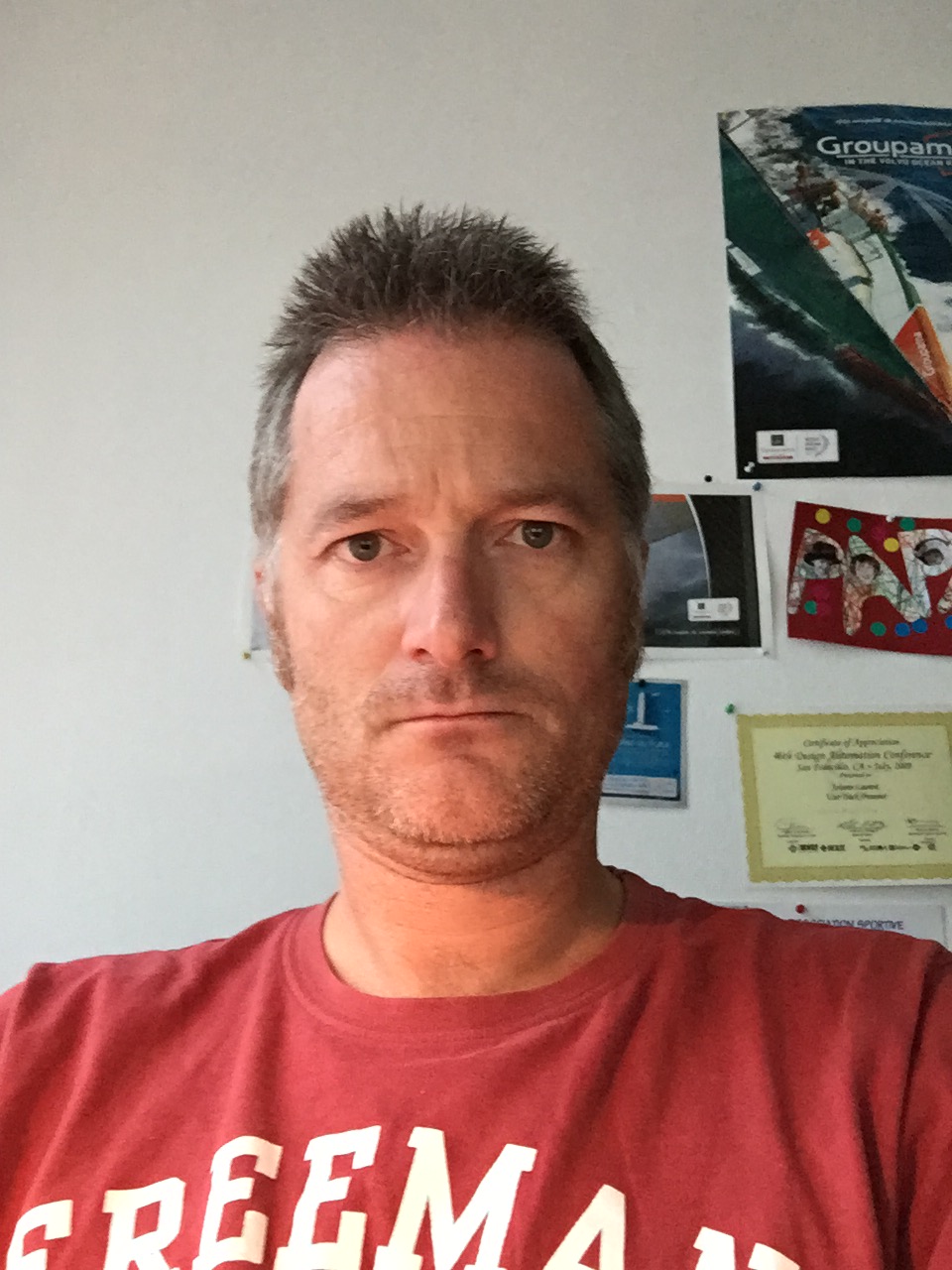 Université Européenne de Bretagne-UBS CNRS- UMR 6285
Centre de recherche - BP92116 - 56321 Lorient Cedex, France
Phone: +33 (0)2 97 87 45 63 Fax: +33 (0)2 97 87 45 27 email:
johann.laurent@univ-ubs.fr
Secretary of the Lab-STICC (Florence Palin): +33 (0)2 97 87 45 60
Master in Electronic & Informatic - UBS University
---
I obtained my PhD in Electronic in 2002 at the Université de Bretagne Sud (UBS) - Lorient, France
- Advisor: Pr Eric Martin
- Subject: Consumption Estimation at System Level Design for Real Time Embedded Applications (French Version only)

I obtained my HDR in 2015 (Habilitation à Diriger les Recherches) at the Université de Bretagne Sud (UBS)- Lorient, France
- Subject: Contribution au domaine de la conception des systèmes embarqués et pervasifs faible consommation (French version only)

Research
Cyber Physical Systems

Accurate wind measurement for competition Sailboat:

PhD thesis (R. Douguet 2014)

with Groupama Sailing Team
Augmented Reality System for the navigation systems:

PhD thesis (JC. Morgère 2015)



Body Area Network
Wind measurement improvements and associated automatic pilot for sailboat:

PhD thesis (H. Kerhascouët)

with nke Marine Electronics compagny

Automatic Generation of Consumption Model for Energy Optimization of Cyber Physical Systems:

PhD thesis (Y. Rioual)

Automatic Pilot for Flying Boats: Dynamic and Multi-Criteria Algortihms:

Phd thsesis (M. Trehin)

with Madintech compagny


Power Energy Consumption Estimation & Optimization for System on Chip (SoC)
Critical Embedded Systems Consumption Modelization:

Memory Mapping Impact Modelization

Development of Methodology for Optimizing the Data Placement into Memory

Design of an Automatic Tool generating the Optimum Data Placement of an Application (from the C code):

MemExplorer
Research Projects:

Smart Printer

- Industrial contact (2017-2019)

: Development of embedded system with indoor localization property for the ETIConcept compagny


HBProtec

- Industrial contrat (2017)

: Development of embedded localization system for the Lynna Innovations compagny
BBC -

Labex CominLabs (2016-2019): Wireless Interconnect Network on chip or in board for Broadcast-Based parallel Computing
tShaker

- Industrial contract (2016): Development of an embedded security system for the W3COM compagny



I-Romi

- CPER (2015-2020) : Constellation of smart buoy for 3D wind measurement.

Smart Mast

- Industrial contract (2015): RFId system and Android application to tag sailboat carbon mast.



Voilier du Futur

- AMI (2013-?): Real Time Energy Management for Sailboat.



GreenVideo

- FUI (2013-2016): Low Energy Image and Video Compression System.



BoWi

- Labex CominLabs (2012-2015): Body World Interaction.



RAM

- Region Bretagne/CG56 (2011-2014): Augmented Reality System for Marine Applications.



SPICES

- ITEA (2006-2009): Support for Predictable Integration of mission Critical Embedded Systems.



MOBIFLEX

- Region Bretagne (2005-2008): Energy Consumption and Flexibility Control for Mobile Communications.

Publication
Teaching
My teaching activities are realized in the Génie Electrique et Informatique Industrielle (GEII) Departement of the Université de Bretagne Sud (UBS)
LICENCE EII

Combinational and Sequential Logic
Linear Control
Sensors & Information
Microprocessor Architecture (Moore & Mealy machines, Von Neumann Model, Cache Memory, Memory Management...)
Electro Magnetism Compatibility (CEM)
Technical Project based on Microcontroller development board
MASTER 1 GEII

Advanced Architecture (SuperScalar & VLIW Architecture...)
Computer Aide Design (VHDL language)
Technical Project based on FPGA Development Board

Use of Xilinx Tool (ISE Fundation)

Design Methodology (V. Le Cam Seminar)
Project : Embedded Systems
MASTER 2 GEII

Management of the MASTER 2 (professional )
Technical Project

Project whom the aim is to develop from specifications a whole system (technical study)
Management of MASTER GEII
Master 1 ISC-SESI

Master2 GEII